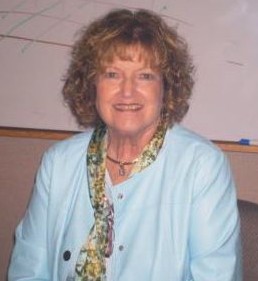 Gail Carolyn Sirna is a well known embroidery teacher from Rochester, Michigan. Hers is a long and distinguished career, encompassing designing, teaching, judging, writing, and service to the needlearts community.
She earned her teacher certification, levels 1 & 2, in canvaswork from Valentine Museum (NAN) in 1982. Her piece, Seasons in the Sun, was chosen for inclusion in the permanent collection of the Valentine Museum, and now resides in NAN's collection at North Carolina State University's Gregg Museum of Art and Design. Gail is also certified in Judging by the National Academy of Needlearts, has served as its Assistant Director of Judging, Director of Teacher Certification and Director of Education for NAN. She served 13 years as Treasurer of that organization, and is now Coordinator of its annual seminar, The Assembly for Embroiderers. Recently Gail completed her Teacher cum Laude level certification, studying calligraphy, and how it could be applied in the needlearts.
In 1992 she was accepted for membership in the National Advanced Study Group
(Fiber Forum) by the Embroiderers' Guild of America and has completed the
Certified Teacher Graduate Program with that organization. She also has earned the
Fellow Level in ANG's Master Teacher Program. In 2002 she completed the very
challenging Honors program through NAN, researching artworks depicting
needleartists, writing a dissertation, and making her final oral presentation. Her
embroidery, Moi-Meme, was designed to reflect Gail's research, and it also now is
part of NAN's permanent collection.
Gail has taught extensively at national, regional, and local seminars including EGA, ANG, EAC, Callaway, Valentine, NAN, & TNNA and for chapters and shops across the country and in Canada.
She served as local coordinator for ANG's National Seminar in 1997 in Detroit, and is also the former Great Lakes Region Director for EGA. Gail is a Past President of the National Embroidery Teachers' Association, as well as editor of its Journal. She is a charter member of the Guilded Needle Chapter EGA in Rochester MI, and cofounder of Magnificent Obsession Chapter ANG in Troy, Michigan. In 2006 she was honored with ANG's Literary Award.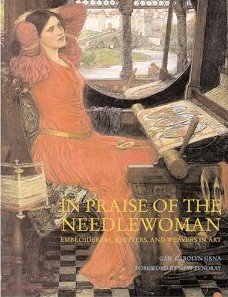 Gail holds degrees in French from St. Louis University and in guidance and counseling from the University of Michigan.
Gail has exhibited in numerous needlework shows, and holds many ribbons from these events, including a Best of Show from ANG in 1999. She received NAN's Lifetime Achievement Award for her outstanding contributions to the needleart community in 2005.
Most recently Gail has authored a book entitled In Praise of the Needlewoman, which was released in summer of 2006.